Operation Puffle – Full info and clues!
Hiya guys! I have found something VERY interesting all over Club Penguin related things!The awesome Club Penguin team have left many Countless Clues and hints that show that operation puffle and golden puffle will be coming in November or soon! If you dont know what is Operation Puffle,you will soon find out! Operation Puffle is a mission set out by the EPF in November 2013.This will involve one of the BIGGEST missions in Club Penguin,other than Operation Blackout. And now,for the clues and hints/tips.
OPERATION PUFFLE!
Herbert was been captured in the Official Halloween party trailer video October 2013,this could maybe show us,that he is back on the island and might come in November.
He was also spotted in Halloween party trailer October 2012,and after that was Operation Blackout,the same here,after Halloween,Operation Puffle,why is he only returning after Halloween parties?
Also,you will notice,in the railer of the Halloween party 2013,his holding a book with a puffle picture in the front of it,that can hint his reading the puffle handbook.
In the first weekes of October 2013,Polo Field had been waddling around the CP wikia chat and had been hinting that in November,there will be an operation,it might be my puffles saddest moment,another tough day for our phoning facility.
When he said in November an operation,it meant Operation Puffle.
When he said it might be his puffle saddest moment,because PH's puffle was captured by Herbert to experiment.So he thought he would also be captured by Herbert.
Another tough day for the phoning facility means,the EPF is inside the everyday phoning facility,and Polo just said phoning Facility,this could mean the EPF needs to capture Herbert.
The secret ingredient in Medival party 2013 was Golden Puffle O!It also may be an ingredient to make Gariana's Golden Puffle,and Herbert might have stole it and use it to create one!It was also mentioned in the CP blog,Gary and PH are studying it,and both appear to be in the EPF! Also the place where the picture of Garaina is was cut off,when we crop and edit it and try to put it together,it shows a picture of the golden puffle! (Look below for the picture!)
Here are some pictures below to prove that #Operation puffle is coming to Club Penguin. 
Herbert says "You haven't seen the last of me,which means his returning soon,but when?
Herbert can be seen i the October Halloween party trailer 2013,which means his in the osland and will come in November.He is seen reading a book with a puffle in the front of it.
A tweet by Polo Field in twitter saying "Operation Puffle".That means the name is confirmed "Operation Puffle".
In the Club Penguin times,a man is seen doing research on the golden puffle and above is the board that was in the back of him.This is possibly a hint.Thats why the Medival party followed by,with a Golden puffle O.
Spike Hike Hashtaged it in twitter because he knew about it and his also hinting us.
An unclear view of the Operation Puffle logo on the end of the "ZOMG ZOMBIES" video.
In the Club Penguin blog,it said "coming up in November 2013″ and the picture above,notice it has All puffles around it,and a question mark in the middle of it.Now,what could be the question mark,it cant be anything else,because all and only puffles are there,and its like one missing puffle,and yep!You guessed it!The question mark is the golden puflle!Because it cant be anything else,because only puffles are there and its like one missing puffle,and one missing puffle is the golden puffle,coming up in Operation Puffle,November 2013!
I've also emailed surport@clubpenguin.com,asking if Operation puffle is coming in November,they replied "I dont really know,but my puffle has been reacting very weird lately.What do you think will be in Operation puffle?"Notice the writing in bold,first they said they doint really know,and then they said what do you think WILL be in Operation Puffle,that means they got a bit confused,because first they said they dont know,and then they asked what do you think will be in Operation Puffle,if they asked what do you think will be in Operation puffle,means its definitely coming!!!
There are still MANY clues left!
In Quest For The Golden Puffle, where it plays a key role, but turns out to be chocolate.
In the first Penguin Tales, when a Blue Puffle got covered in gold paint and was mistaken for one.
In the Gadget Locker in HQ during some of the PSA Secret Missions.
In PSA Mission 10: Waddle Squad, as a decoy.
The Party Starts Now Animated Short, as a cameo.
At the Lighthouse during the Medieval Party 2012.
On the Studio Lot background.
On PH's Hat as a key to the Puffle Training Room.
On Issue #404 of the Club Penguin Times.
In the Magic Potion Book on the last page in the bottom left corner of the Wizard Library.
It might make an appearance in Operation: Puffle.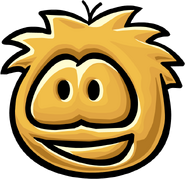 The Golden Puffle Statue.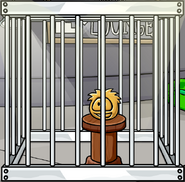 The Golden Puffle used as bait in Mission 10.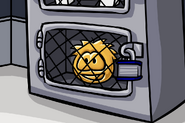 The Golden Puffle in the Invention Cabinet.

Seen at the Medieval Party 2012and 2013.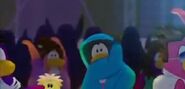 The puffle at the bottom center left looks like a Golden Puffle in The Party Starts Now.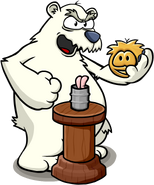 Herbert P. Bear holding the Golden Puffle statue.

One of the Golden Puffles on theStudio Lot background.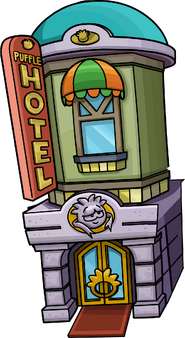 The golden puffle painted on the wall of the front of the Puffle Hotel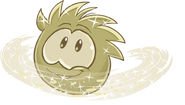 The Golden Puffle as seen on the last page of the Spell Book of Garianas.
Note: The picture with this full puffle was cut out,but we tried to edit it and it comes like this.
Post on Club Penguin blog!
Hello Penguins!
The rumors are true! A new puffle species is coming this month. We can't say too much yet, but we'll have more show you soon!
Thoughts? What color species do you think it'll be?
Waddle on,
-Club Penguin Team
A new post on the club penguin blog!
It says "Get ready for the wilderness" Herbert was in the wilderness in the halloween party video and the golden puffle might be out THERE in the wilderness! So "Get ready for the wilderness"!
It clearly says Gold Puffle! and quest for the Gold puffle! A simple clear clue of the gold puffle coming in Operation Puffle! Also if we walk with it we might find super rare items!What do you think these "super rare items" will be? As we already know,normal puffle digging goes upto about 2007,so super rare might be 2005-2006! It could be very rare!
It says we can get special gear during "OPERATION PUFFLE" another simple clear clue that states operation puffle and it'll be from Nov21 – Dec 3!
It says seeds become golden O berry bush! Further into detail,when we click find out more,it says when a puffle eats the Golden O' berry,they will find very rare treasure,as her puffle Plok ate a golden O berry and it found super rare treasure! Maybe the Golden puffle is made put of these Golden o berrys thats why it can find super rare treasure! Also it might be made out of golden puffle O because the secret ingredient in the Medival party was golden Puffle O and thats how Garaiana had the gold puffle by making a potion with golden Puffle O,so the golden puffle can find super rare items because it is made out of Golden puffle O! Will this become a food item for puffles in the future?
Well,thats ALL the clues we have for now,and we'll let you know if there are any more clues by updating this post!
Let us know in the comments if we've missed any information out and what do you think about the Golden Puffle! Are you excited?
Waddle on!
-Priyul