Club Penguin Idea/Discussion: 2016 Annual
Hi everyone,
So 2016 has dawned upon us. A new year, a new Club Penguin annual right? I wish that was the case. Club Penguin have been making annuals for a while now but unfortunately after 2013, they just stopped the annuals as well as several of their merchandise! Today I explain why I think the annuals should return and why I think it might not return.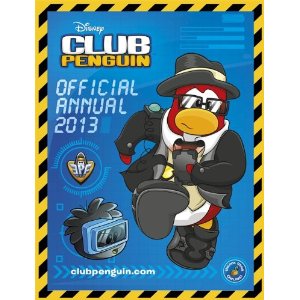 I'd like to start of with why I think annuals didn't return after 2013. Some of you may remember how Club Penguin made magazines around a year ago. I believe that this could've replaced the annual at the time since it contained everything an annual had (puzzles, comics, information etc.) however it was only available in certain countries. If it wasn't attainable in your country, you could always buy it online. Then after 41 issues of the magazine sold in the United Kingdom, it was discontinued. This was a paragraph from my original theory which I posted on Club Penguin Reveals:
Back then, the magazine was based on the actual game. Say for example the Star Wars Takeover was around. The magazine edition would be based all around the Star Wars Takeover. This, in my opinion is better than the current magazine. In the latest magazine, the issues have been based around random topics and random pages instead of the actual game. I'm not fond of this idea and many people must agree with me if Club Penguin were to close down their magazine. There is of course the other reason that must be considered to come up with the answer. As this is a discussion, we need to consider all likely possibilities and here is another one. I'm sure you've heard that the office in Brighton, England has been shut down. The magazine is avaliable in stores only in the UK and Ireland and England is in the UK. Why Ireland you may ask? Well, Ireland were in the UK before but now they're independent (in other words, they're no longer part of the UK). Although the magazine ended before the office closed down, could this be a sign to the office closing that we never noticed? I'm sure Club Penguin must've gained profit from the magazine despite them blaming membership sales. In my opinion, the office closing option is a more logical reason than the magazine quality.
To read the full post I made, click here.
So now that Club Penguin have discontinued both the annuals and the magazines, there is another option we could point to. Cost. Now I'm not talking about if the magazine was expensive or not (most magazines with a special item were £3.99 and £2.99 without the item). I'm thinking about the printing cost since Club Penguin have discontinued both forms of physical books. Perhaps too little people were buying it but I doubt it since so much of the community is disappointed. I can say this because of a tweet which was recently released yet has many retweets.
https://twitter.com/DesktopCp/status/682367174942539776
This really does leave a mystery of to why Club Penguin hasn't released anything new.
Now here's what I think Club Penguin could feature in the annual. As usual, I would expect puzzles and comics since it is an annual but I do believe they could feature a lot more about the island. Maybe add some mystery because who doesn't like a good mystery? Whatever happened to the cave high up on the mountains? What's happening to the shadow ninjas (hopefully when if Card Jitsu Shadow comes out, it has a good storyline like Card Jitsu Snow)? You could add all these mysteries to the annual. There's a lot that can be done with an annual but the first step is to make sure that the annual hopefully one day does come out. If Club Penguin haven't started an annual (which I think is true) then I don't think we will see a 2016 one unless it comes out later this year. I think the overall question is what made Club Penguin stop printing magazines and annuals? What are your thoughts? Comment below! This is a discussion so I encourage everyone to do so!
Waddle on!